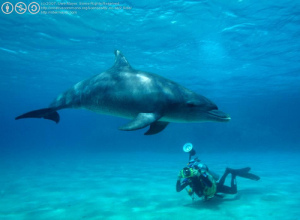 It helps to have background in 'land photography' in order to understand the basic principles of underwater photography and unless you plan to rival the likes of National Geographic's David Doubilet, it could just be the start of an obsessive and thrilling new hobby.
The father of underwater photography is a certain pioneering Mr William Thompson, according to whom... "I knew that, could we sink a glass plate, prepared with collodion, to the bottom of the sea, in theory there was no reason why we should not obtain as good an image as we do on land, provided the sea water could be kept from the camera, and that the light was sufficient. I was not, sufficiently versed in optics and chemistry to know whether or not the water obstructed any and what light rays."
He proceeded regardless, with a contraption mounted on an iron tripod and lowered it to the bottom of the ocean. The event involved much advanced preparation, even for 1856 and especially for someone who: 'was not, sufficiently versed in optics and chemistry'.
Mr Thompson's success was followed by Louis Boutan, the development of colour photography and John Ernest Williamson shot the first underwater film. Not surprisingly the rest was left to Jacques-Yves Cousteau, who teamed up with Jean De Wouters to build the Calypsophot camera, which later evolved into the ever-popular Nikonos.
The challenging techniques involved in underwater photography make the time and effort worth it, not to mention the rarity of subject matter. It's not everyday we have albums of wrecks, rare marine sightings or our submerged buddies. One does need to be quite a skilled diver to apply techniques needed to overcome obstacles such as diffusion, strange color variation and loss of light with depth.
Equipment
Believe it or not, there is such a thing as a disposable underwater camera, they are waterproof to a certain depth but have a pre-set focus - so close up photography with them is not a good idea. There isn't a strobe so its best stay shallow where there's lots of light for effectiveness. Anything taken pointing downward won't work so when using them rather point them upward or at an angle.
Scuba Diving Article Image3_large
Colors have different wavelengths and the longer ones such as orange and red tend to be absorbed a lot quicker, leaving us with the blues and greens. Due to this phenomenon and the size of the body in which it operates, light dissipates everywhere expect for at very close range, even in clear waters. It's best therefore to focus directly on the subject as close as possible - that is anything between the camera and a meter. Wide angle and macro lenses are used to counter this.
Watertight housings have been specially designed to allow the photographer to operate a camera as he would have on land. Digital options are favored for this since standard 35m options don't allow for film roll changes underwater. Dome-shaped or fish eye lenses are employed in place of wide angle lenses in order to overcome problems caused by image distortion due to refraction.
Amphibious underwater cameras (digital or film) are waterproof up to 100 ft. They are available in range-finders so you don't have to look through the lens to capture a pic. Being 'amphibious' they don't need housing as with other digital options.
Flashes and strobes are tricky to use underwater - it's important to note that though useful, they provide only a supplementary, not primary light source. Certain digital cameras allow for color correction in shallower waters and special split filters have been designed to compensate for refraction.
Popular choices are:
# Sea and Sea's 35mm Motor Marine III.
# The Casio Exilim Zoom EX-Z1000 has an anti shake feature but the housing is separate.
# SeaLife DC500 Underwater Digital Camera
# FujiFilm FinePix A400 Digital Camera - great for having fun underwater but not professional purposes.
# The Bonica Snapper-XP Underwater Digital Camera has all the trimmings including a watertight silicon skin, hard housing, a 3.2 megapixel capacity, video as well as a 4x digital zoom.
The folks at Seafriends.org recommend the following reading list for topical reference:
* Berwin, David and David Barber: Creative Techniques in Underwater Photography. 1982.
* Church, Jim and Cathy: Beginning underwater photography.1972.
* Church, Jim and Cathy: The Nikonos book. 1979.
* Rebikoff, Dimitri and Paul Cherney: Underwater Photography. 1965, 1975, AMPHOTO New York.
* Rozendaal, Ruud: Fotojacht onder de waterspiegel. (Dutch)1971.
* Time-Life: Life library of photography. 16 volumes, 1970.
* Townsend, Derek: Under water photography. 1971.
* Wu, Norbert: How to photograph under water. 1994. Stackpole Books.
http://www.divetime.com/articles/Scuba_Diving_Information/Underwater_Photography__153.html
elite diver




Αριθμός μηνυμάτων

: 1933


Ηλικία

: 47


Τόπος

: Άγιοι Ανάργυροι


Registration date :

22/11/2008




---
Δικαιώματα σας στην κατηγορία αυτή
Δεν μπορείτε
να απαντήσετε στα Θέματα αυτής της Δ.Συζήτησης